---
ISSUE #39 October/November 2011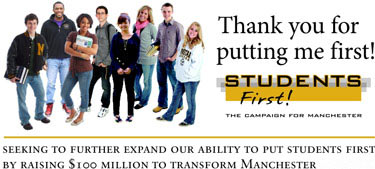 Manchesterís $100 million campaign says it all in the name: Students First!
Manchester College is charting a $100 million fund-raising path lined with new learning facilities, scholarships, new student and faculty support systems. Increases to the endowment and annual fund will nurture the journey.
While $100 million is a breathtaking goal for the Students First! campaign, President Jo Young Switzer and the Board of Trustees are confident. The College has generous support and the right team to transform Manchester students' horizons with modern opportunities and structures, she said.
At a Students First! celebration Friday, Oct. 21, donors cheered student and alumni testimonials of their Manchester-inspired successes and experiences – and President Switzer's announcement that the College has secured commitments and cash exceeding $73 million.

"Students first. That's the way learning happens here," said President Switzer. "It's our way of teaching. It's second nature for us to listen and respond to our students, to help them develop into persons of ability and conviction. To prepare them to make a positive impact on the world. Putting students first is what we do. It is who we are." Read full story >


---
Spartan Cams give birds-eye view of new construction projects
The Students First! campaign is already changing the landscape of the North Manchester campus, as well as the Manchester College College of Pharmacy campus in Fort Wayne. Check out the construction of both the new Academic Center and the Pharmacy School live on our Spartan Cams and track progress as both facilities get ready to open for fall 2012 classes.


---
Enjoy arts and culture at Manchester
For 123 years, Manchester College has served as a vibrant cultural resource for not only students, but for the local community as well.
The public is welcome to a full schedule of concert and dramatic performances, art exhibits and entertainment, as well as engaging lectures, symposiums and workshops. The College is pleased to share new voices, international perspectives and scholarship across the arts and sciences with its Wabash County neighbors. Many of the events are free or of nominal cost.

If you live in within driving distance of campus, you'll want to bookmark our Campus Calendar for a continually updated resource of what's happening at Manchester.

November-December 2011
Thursday, Nov. 15 – 3:30 p.m., "Hollywood Times," with Finnish-born professional artist Mervi Pakaste, Cordier Auditorium, free (Pakaste's work is on exhibit until Nov. 27 in Link Gallery, Otho Winger Hall.)
Friday, Nov. 18 – 7:30 p.m., Student vocal recital by baritone Alex Drew and soprano Cassie Whitaker, Wine Recital Hall, free
Friday, Dec. 2 – 7:30 p.m., "Lessons and Carols" with Chamber Singers and Cantabile women's choir, Lutheran Church of North Manchester, freewill donation
Friday, Dec. 2 – 8 p.m., Comedian Ty Barnett, Cordier Auditorium, free
Sunday, Dec. 4 – 3 p.m., Manchester Symphony Orchestra, "The Holidays with Simon Mulligan," Cordier Auditorium, free
Dec. 5 – Feb. 5, Christmas Crèche Exhibit, Gallery G, Union, free
---
Save now on great gifts from the Campus Store
T-shirts, sweatshirts, hats, jackets, golf wear, pajama pants, backpacks, banners, umbrellas, blankets, glassware, auto accessories and more … MC Gear makes great Christmas gifts for your student and family.
Order online Nov. 14 - Dec. 17 and get a 20% discount! Enter 20off in the coupon code box at checkout. Offer excludes already marked down items.


---
Dates you should know

November
23-27

Thanksgiving recess (classes dismiss 6 p.m. Nov. 22; resume 8 a.m. Nov. 28)

December
12-15
Final examinations
January
4
January session classes begin
---
Extend Family Connections to Grandparents
Are Grandma and Grandpa asking what's going on in your MC student's life? Click here to fill out a simple form – we'll include them in the mailing list for Family Connections and invite them to campus for special events!

---
Questions? Feedback? Email familyconnections@manchester.edu.