EVALUATION TOOLS
Take the CRAAP Test.
Evaluate web resources for:
Currency
Relevance
Authority
Accuracy
Purpose
(Thanks to Meriam Library University of California, Chico)
---
Is this journal scholarly?
Click here to find out.
Rhetoric of War
Find an Artifact
Hint: For non-U.S. cartoons, click the radio button next to "World" under advanced search.

Hint: Find photographs by combining the name of your country with another keyword such as protest, vigil, conflict, violence, etc.

Hint: Find newscasts or interviews. (Add the word interview to your search.)

Hint: For sources from your country,start with an advanced search and limit by region and language. From the results screen, click "More" (below the search box) and limit to blogs.
---
Selected Websites
"The world's leading independent, non-partisan, source of analysis and advice ... on the prevention and resolution of deadly conflict."

Browse by country for world newspapers, magazines, and news sites in English.

Search for news from around the world in English.

Information on the history, people, government, economy, geography, communications, transportation, and military for 266 countries.

Find background information on the history, politics, and economics of countries around the world.
Your Librarian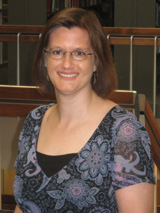 Darla Haines
dvhaines@manchester.edu
Phone: 982-5949
Office: 112 Funderburg Library
---
Featured Book
The Statesman's Yearbook
R 310 St29