Evaluation Tools
Take the CRAAP Test.
Evaluate web resources for:
Currency
Relevance
Authority
Accuracy
Purpose
(Thanks to Meriam Library University of California, Chico)
Academic Research
1. Don't rely on Google for everything!
2. Focus on scholarly literature (see the Articles tab for more information).
3. Perform more than one search!
4. Evaluate the information you find using the criteria in the box above.
5. Ask for help! The text-a-librarian service is a quick and easy way to get help from a librarian.
Introduction to Writing (ENG 105)
Spartan Search
Find books, journal articles, CD's, video recordings and more!



SEARCHING FOR BOOKS
When using the above search box, if you're looking specifically for books, be sure to narrow your results on the left side (see image below).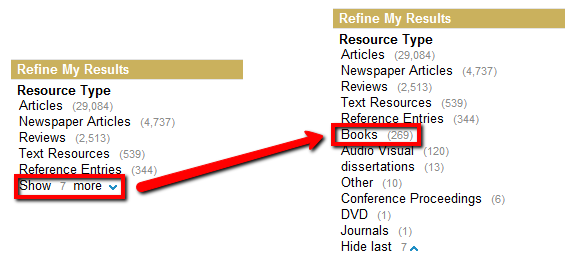 Online Resource Access
On Campus:
The Spartan Search catalog and all library databases have automatic access when using a campus computer.
Off Campus:
When off campus, use your regular network username and password to access library resources. If problems occur, contact Darla Haines