EVALUATION TOOLS
Take the CRAAP Test.
Evaluate web resources for:
Currency
Relevance
Authority
Accuracy
Purpose
(Thanks to Meriam Library University of California, Chico)
---
Is this journal scholarly?
Click here to find out.
Christian Traditions
Find Books, eBooks, DVDs & more




Browse Call Numbers in the Stacks



Early church history
Heresies

270.1-270.2
273



Reference Collection




New Schaff-Herzogg Encyclopedia
of Religious Knowledge
Encyclopedia of Christian Theology
Oxford Companion to Christian Thought
Encyclopedia of the Early Church
Encyclopedia of Heresies and Heretics
New Catholic Encyclopedia
R 200.3 En19e

R 203 Sch14n
R 230.03 En19L
R 230.03 Ox2h
R 270.1 En19
R 282.03 N42c





ebrary Hint: Click on "Religion" before
entering your search.
---
Find Entries/Articles
---
Cite Resources
Your Librarian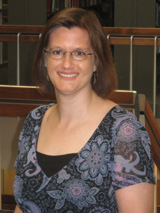 Darla Haines
dvhaines@manchester.edu
Phone: 982-5949
Office: 112 Funderburg Library

---
Featured Books
Encyclopedia of Christian Theology
Reference 230.3 En19L
Encyclopedia of Heresies
and Heretics
Reference 273 C613e