Featured Alum: Dan Kimbrough '01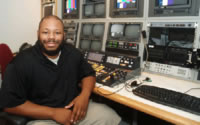 Dan Kimbrough '01 has received the prestigious Videographer Award of Distinction for his documentary, Planting Seeds of Change, chronicling service by Misericordia University students in Slidell, La., after Hurricane Katrina.
"The documentary follows them through their week and allows them to tell in their own words the impact their work had, not only on the Louisiana families, but also on them,'' said Kimbrough, who majored in psychology and communication studies at Manchester. "While they helped make a change in the lives of others, they also noticed a change within themselves.''
At Manchester, Kimbrough's interest in media studies led him to serve as station manager of WBKE campus radio for two years. An internship at WNIT-TV in Elkhart, Ind., convinced him videography would play large in his career.
Next was a master's degree in electronic broadcast management from Central Michigan University. With five years as a freelancer, videographer, producer, director and editor, Kimbrough started his own production company, counting among his clients ESPN and McDonald's.
His numerous instructional videos range from how to play the card game Spades to making pizza and repairing your own vehicle. Many appear on YouTube.
Today, Kimbrough is assistant professor of communications for Misericordia in Dallas, Pa., where he teaches courses in basic and advanced video and post-production.
Learn more about this extraordinary graduate, click here.