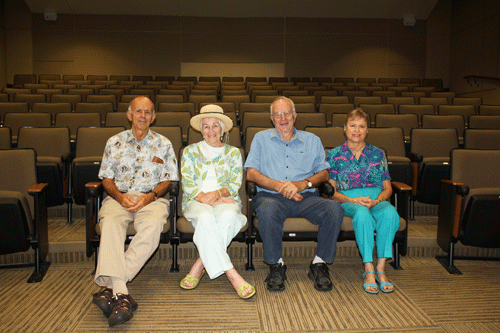 Members of the Holl family enjoyed a tour of the Academic Center, the former Holl-Kintner Hall of Science, from left: John Holl '60, Louise Holl '48 Weldy, Carl Holl '54 and Donna Holl.
We're off, with new learning spaces,
a new campus, and another enrollment record

With classes in the new Academic Center and the College of Pharmacy well under way, Manchester University is embracing its largest enrollment since the Vietnam Era.

"We have about 1,350 students," said Dave McFadden, executive vice president and dean of the College of Pharmacy. Manchester achieved its strategic goal of 1,300 students last fall, comfortably filling residence halls and classrooms on the North Manchester campus.

Over the summer, faculty in 31 academic disciplines – from finance and history to education and entrepreneurship to languages and sociology – moved from 120-year-old space into the very accessible offices, tech-savvy classrooms and seminar rooms of the new Academic Center.

Faculty and students this fall quickly settled into the Academic Center, a $9.1 million transformation of the Holl-Kintner Hall of Science. They agree: The building achieved the goal of an environment for more-effective teaching, learning and student-faculty interaction. Many of the classrooms and faculty offices left the 123-year-old Administration Building and Calvin Ulrey, a much-renovated former residence hall.

"I appreciate the little things the Academic Center offers, like climate control and new technology in each classroom," said Michelle Calka, instructor of communication studies. "The new computer systems make displaying handouts to the class easy. And especially, our office space is conducive to student collaboration."

Alumni and friends will help dedicate the Academic Center
at 10 a.m. on Homecoming Saturday, Oct. 13.

The new facility is complete, including the Welcome Center that introduces prospective students and their families to Manchester University, but funding is not. Opportunities remain for dedicating learning spaces, offices and even entire subject areas of the structure. Click here for more about giving to the Academic Center.

The new professional doctor of pharmacy (Pharm.D.) program on the north Fort Wayne campus is driving the latest enrollment surge. In mid-August, its first class of 64 students from 20 states inaugurated the lecture rooms and laboratories designed expressly for pharmacy study. The campus also offers a range of conference facilities.

Manchester will dedicate the Fort Wayne campus
at 3:30 p.m. on Thursday, Oct. 18.

The undergraduate program is riding an enrollment wave that began five years ago, when Manchester charted a course of affordable higher education with its Fast Forward three-year degree and Triple Guarantee of financial aid, a degree in four years and a job or grad school within six months of graduation. About 4 percent of the undergraduate students are enrolled in Fast Forward, which puts them into their careers a full year earlier.