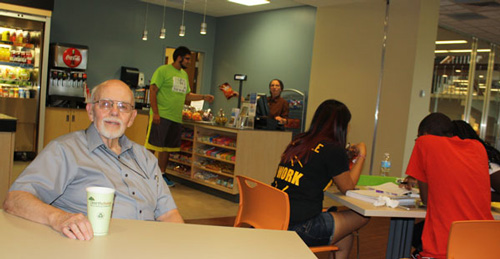 See you at Wilbur's, MU's new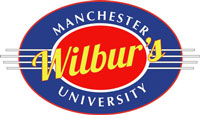 hot spot for study and friendship

There's a new hot spot on campus that is serving up a new tradition of smiles and comfortable learning connections.
It's Wilbur's, where new generations of Manchester University students are gathering to study, collaborate on projects, tap the rich resources of Funderburg Library and its staff of experts, and sip a cup of Joe.
"Students want a comfortable place to study outside of the classroom," said Dr. Wilbur McFadden '53, namesake of the spacious new café and 24-hour study lounge on the main floor of the library. "They want a relaxed atmosphere, they want to have study tables – they have learned to want that. They want it after hours, late into the night."
Students also want those personal learning spaces with coffee and other sustenance close at hand, he adds. Now they have it. Chartwell's campus food service has created a Wilbur's menu of veggie and fruit snacks, wraps, breads and sweets – including "penny candy." Students also will find punches, tea, coffee and waters at Wilbur's, of course.
Manchester will dedicate the space at 10 a.m. Saturday during Homecoming.
"Our goal with Wilbur's is to increase use of the library, to encourage collaborations and study habits," said Jill Lichtsinn, library director. "We have a huge virtual library – we repurposed this space in ways that support their learning," said the 1979 graduate. "We have created a comfortable space with professional library and technology assistance close at hand."
The gift of Wilbur's celebrates the Manchester spirit of four generations of McFaddens. "This honors the genealogy of our family," says Dr. McFadden, a family physician with service in Puerto Rico, California and mission work in Indonesia before settling at the Manchester Clinic for 30 years. "So many of my family have gone to Manchester. Two of our sons met their wives here."
At least 19 McFaddens have Manchester in their blood, including Dr. McFadden's parents – W. Glenn McFadden '28 and Eva Burkholder '30x McFadden. Cousins and nieces and others are in the McFadden branches of the MU family tree, and more undoubtedly will sprout.
Wilbur and the late Joyce Snyder '53 McFadden's four children all are Manchester-true: Dan '77, Dave '82, Tim '85 and Joy '90x. (Dave is executive vice president and dean of the College of Pharmacy.)
Wilbur's is part of a $240,000 summer renovation of the library. The Wilbur's space was a computer laboratory, which moved downstairs, accompanied by more computers and collaboration space for students.