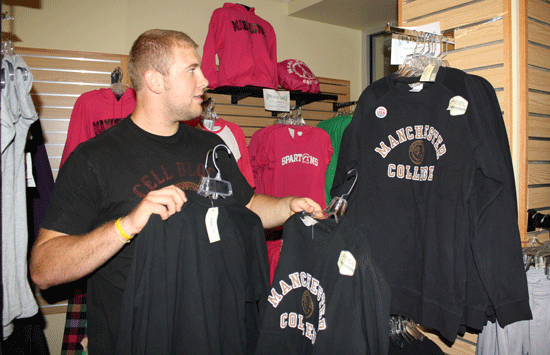 Football Spartan Eric Courter '14 has his hands full with the name change
as he works in the Campus Store this summer.

Campus Store gears up for "University;"
that means great deals for alumni
Alumni will want to check out discounts of at least 35 percent in the Campus Store as Manchester makes way for its new surname: University!
"Starting July 1, all of our Manchester College items will become vintage," says Heather Gochenaur, Campus Store manager. "Everything we have in stock is on the shelves, so I am encouraging people to get their size now."
Alumni may shop online or in The Union store, taking an additional 5 percent off any "MC" or "Manchester College" item that is already marked down. If the item is not marked down, shoppers can take 30% off the original price.
All sales are final and exclude textbooks. The discount will be taken after the order is placed. There is much more than clothing on the racks: Christmas ornaments, folders, garden flags, mugs … it's all there, even a barbecue spatula!
Beginning July 1, the "College" products will have a section of their own within the store as University logos and wording takes over.
"At first I was a bit nervous about creating new designs with 10 letters in 'Manchester' and 10 in 'University' but I think everyone will really like what we will be able to do with the new products," Gochenaur adds.
You'll want to revisit the Campus Store link after July 1 to see what's new!

By Kathryn Miller '13