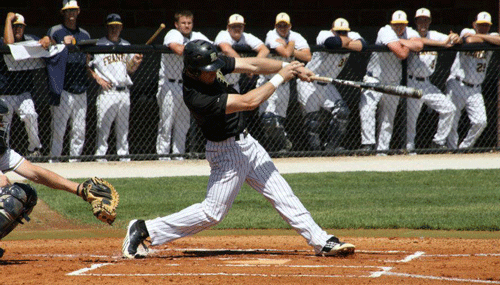 HCAC MVP Corey Marchant '13
Spartan athletes push into post season


Graduation came and went, but for several seniors and their teams, post-season success continued their collegiate careers. While her classmates received their diplomas from President Jo Switzer on May 20, education major Casey Loshe '12 was jumping her way into the NCAA Division III Track and Field National Championships and baseball Spartans were working their way to the regional championship.

Ranked 21st in the nation in high jump, cum laude graduate Loshe tied for fifth at the North Central Gregory Invitational. The Decatur, Ind., native cleared 5 feet, ¼ inch to qualify for the Division III National Championships in Claremont, Calif., where she finished her career at 1.59 meters, nationally ranked 19th for the record books.

Meanwhile, the baseball program won the Heartland Collegiate Athletic Conference Championship. Led by conference MVP and biology-chemistry major Corey Marchant '13, the Spartans beat rival Anderson University 5-0 as Second Team All-American and accounting major Bryce Murphy '13 hurled a four-hit shutout and Jordan Nieman '14 blasted a home run to send the Spartans on to the Marietta, Ohio regional.

Manchester beat nationally ranked Washington & Jefferson, Adrian and St. John Fischer colleges with strong pitching from sport management major Justin Scott '13, accounting major Dylan Padgett '14 and accounting and marketing major Kyle Konarski '13, outscoring their opponents 36-18 to reach the regional championships.

"The junior class that we have, where there are a lot of Fort Wayne-area kids, it's one of the best classes we've ever had," head Coach Rick Espeset told The Journal Gazette of Fort Wayne.

Facing No. 1 defending national champion Marietta College, the Spartans dropped two straight, 6-3 and 7-3 to end their season with the most games played by any Manchester team and the second-longest run in team history. Accounting major Cody Schell '14 and Nieman were named to the all-tournament team. Marietta retained the title, defeating No. 8 Wheaton College.

By Chaz Bellman '13