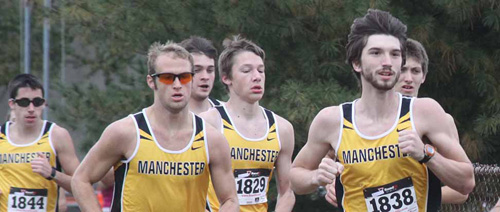 Fall Spartans earn national berths, wining season
Shout it loud! Spartan football!

Six consecutive wins. The Bronze Ball Trophy. A 38-0 shutout. HCAC Coach of the Year. The first winning season since 1997.

Spartan Football!

After a 0-4 start of narrow defeats, a Week 5 win at Bluffton was the game-changer for the Spartans. MU's run included a Homecoming victory over Earlham, breaking a 10-game losing streak against Mount St. Joseph, a Senior Day win over undefeated Hanover and the Anderson shutout.

All done, the Spartans were 6-4.

"This group had an unbelievable want to win all season," said Head Coach Shannon Griffith at the Nov. 18 Spartan awards ceremony. "We hit a crossroads after we lost a heartbreaker at Rose-Hulman in Week 4. I knew from that point that we could either have thrown in the towel or come out fighting, and we came out fighting all the way through the end of the season.

"What this group did was tremendous. They were always together, no matter what the situation. They'll be able to tell their relatives, friends and children that they are a part of Manchester University football history."

There's more gridiron news: Wide receiver Kurt Monix '13, one of the top pass catchers in school history, was selected for the prestigious Tazón de Estrellas (Bowl of the Stars) in Guadalajara, Mexico on Dec. 15. Other accolades are expected.
It was an outstanding soccer and cross country season, too.
Coach Brian Cashdollar's men's and women's teams ran to fourth-straight Heartland Collegiate Athletic Conference championships in cross country. The men placed fourth at one of the strongest NCAA Division III regionals and then qualified for NCAA Nationals for the third time in four years. Manchester ran 29th, with Jon Cafarelli '14 the team's top individual at 129th.

The women runners were 11th at the NCAA Division III Great Lakes Regional with Karla Madrigal '13 concluding a sparkling MU career with a 21st-place finish in the 6K for All-Region honors.

Soccer Coach Andy Stout's women's squad etched itself in the Manchester University annals with a 9-7-3 record, the first winning campaign since 2006. The Spartans returned to the HCAC postseason tournament for the first time since 2008, pushing regular season champion Earlham to the wire in a 2-0 quarterfinal round loss. Four Spartans earned All-Conference honors, including goalkeeper Emily Willmann '15, with 11 shutouts, the best record since 2003.

MU's men's soccer team finished 5-13-1, highlighted by a thrilling 4-3 double overtime Homecoming win over Mount St. Joseph and a victory over Trine. Four MU players earned All-Conference, including Dian Radev '13 and Cody Freels '13, each three-time honorees.

Volleyball
Despite an 11-19 finish, Coach Kendra Marlowe's charges gave Spartan fans hope for a bright future in 11 freshmen and sophomores who saw significant playing time. Outside hitter Sarah Pruden '16 made the opposition sit up and take notice, earning All-Conference honors and making the HCAC All-Freshman squad. She is 2012 HCAC Freshman of the Year, with 382 kills, the most for a Spartan since 2007.
Tennis
MU women closed with a .500 season and an HCAC postseason tournament berth. No. 1 singles player Kara Gilley '14 garnered All-Conference honors.
MU's men played a brief three-dual fall slate highlighted by a win over St. Francis.
Golf
A pair of first-year coaches led the Spartans to the links this fall. Coach Tara Boone's women's team drove to fifth place at the HCAC Division III Championships, with Carly Clock '14 tallying the best Spartan finish.

Coach Brett Vanlandingham's men played a four-meet fall schedule with a best finish of fourth at the Wabash Small College Classic.
By Mark Adkins