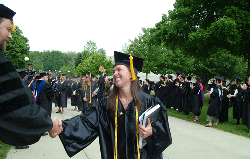 Last Lessons for the Class of 2009: Embrace the Unexpected ...
and say, "Thanks!
ABC medical commentator Dr. Timothy Johnson received an honorary degree and offered 201 members of the Class of 2009 advice at graduation May 24: "Believe it or not, you are in for some huge surprises … that you cannot begin to imagine." … video, speeches and more
---
Thanks a million!!
Friends and alumni bring amazing success
to annual golf outing for Spartan athletics
A popular annual golf outing of alumni and friends has gathered $1 million for Manchester College athletics – an unimaginable success when three alumni first gathered friends 20 years ago on a northeast Indiana golf course to raise $300 … more

---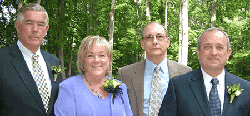 Alumni Spotlight
Manchester College honors four
alumni of great ability and conviction
Alumni with passionate leadership in social work, peacemaking, industry, fundraising and the Church of the Brethren are 2009 Alumni Honor Awards recipients … more
---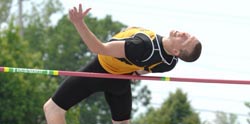 Kimmel raises the bar at MC …
and NCAA championships
With a 6' 11½" clearance, John Kimmel '10 is the NCAA Division III Track and Field National Champion. Kimmel's personal best in the national high jump championships on May 23 … more
---
Phenomenal Phonathoner
raises almost $78,000 for her College

During her Manchester College career, Phonathoner Emily Schieber '09 raised $77,735 for the College, connecting with 4,759 alumni and friends … more
---
Manchester College launches web site
for its Green Campus Initiative

Just about everywhere you look on campus, and even some places you can't see, Manchester College is getting greener. The Green Campus Initiative task force … more
---
June 30 is the last opportunity to support
The Manchester Fund this fiscal year
It's time to close the books on another fiscal year for The Manchester Fund, the source for the most-urgent and pressing needs of the College.

The Manchester Fund turns on the lights. It supplies fuel for lawnmowers and transporting student-athletes. It provides books, research materials and internet databases in Funderburg Library. And, especially important as families struggle in these uncertain economic times, it provides student financial aid.
Click here for details about this important fund and how to make sure your contribution counts for the 2008-2009 fiscal year.
---

There's still time to give before the College's fiscal year ends on June 30.
Click here.
---

---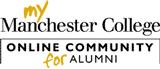 What did Manchester Mates find at Manchester College? Each other!
"We met on a blind date in the fall of our freshman year (1955). From then on, we had "Coke" dates, study dates, and many walking dates around North Manchester with our 5-cent ice cream cones. Howard was tossed in the fountain on our engagement and I was dumped into the bathtub at Oakwood Hall. We recently celebrated our 51st anniversary." – Howard '59 and Carolee Liechty '59 Ogburn
Memories sharing is a Manchester College tradition. Click here to share your Manchester Mates story.